High-Performance Magazine with "Metal Mania" wild custom by Hot-Doc Productions. Ignition: AMM-IMMOGNITION II (single-fire) plus AMM-DETONATOR-PRO ignition coils.
The same bike was also featured on the front-page of European Dealer News (now AMD).
Nitro Pro-Street by Southern Cycles Austria. AMM - IMMOGNITION II.
On the front page of "Bikers News" Girl on bike with AMM-IMMOGNITION, plus article "creatures of the night" with a very hot and a 'not so hot' bike, you choose...
"Silver Hope" by HD-Glaser, and "Silver Billet", done by one of AMM's distributors Zodiac. Powered by AMM-IMMOGNITION.
"69 Time" top-gas dragster. Nitro Olympics '98 Hockenheim. Driver Thomas Häfner. Ignition: AMM-IMMOGNITION.
Two bikes by Mike-Bike, Solingen, one features a AMM-MILLENIUM-IMMOGNITION, the other a Stainless-Steel IMMOGNITION (a rare collector's item today).
Feature in Biker's Live about electronic ignitions. The article shows, that the AMM-IMMOGNITION can maximize horsepower over the entire rpm-range. Somthing other ignitions often cannot do...
1998 Custom-Performance Ad with Silver-Bullet bike. AMM-IMMOGNITION.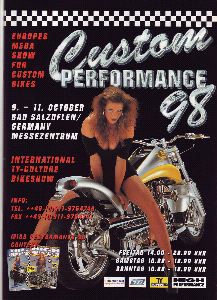 Altmann Micro Machines … Dipl.-Ing. Charles Altmann… Am Mühlenbusch 57… 42781 Haan… Germany
phone +49-2129-54260…fax +49-2129-342555…email

Disclaimer: All words marked with ® are used as a reference only and belong to the Harley-Davidson company, which is in no way affiliated with AMM.