---
WHAT IS THE AMM - IMMOGNITION?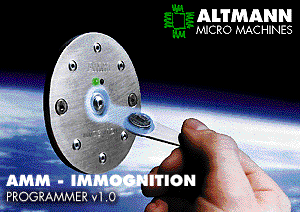 The AMM - IMMOGNITION is the world's finest ignition system for Harley-Davidson® motorcycles.

When people come up to compliment you on the culture and power of your Harley-Engine, you can smile knowingly ... and hopefully you'll tell them a little about us.

This ignition system has been designed, refined, constructed and tested to deliver maximum performance for any Harley-Engine, in any situation. And it is very easy to install and to operate.
The idea behind this ignition system is to implement a high-precision ignition computer incl. ignition power amplifier and supplementary features as field-programmable advance curves and integrated immobilizer into a compact unit, that replaces any stock or aftermarket ignition.

The whole miniature electronic assembly is integrated into a polished CNC-machined F53-aluminium nose-cone outer-cover.

Just install the late OEM trigger rotor and the AMM-SENSOR PLATE and you have done half the job. (You can even use your OEM Sensor assy if you want to ride with the AMM - IMMOGNITION I (dual fire ignition). The Sensor is connected inside the nose cone, so that only 3 (2 for IMMOGNITION I) external cables come out the nose cone (ign. +12V and coil- front & rear). The aluminium cover is used as a ground connection.

We tell you the truth: You can even use your old ignition-coil(s) (supplied a min. primary resistance of 2,4‡ for street applications), although we don't want to prevent you from buying our own high-tech DETONATOR-SERIES Ignition Coils. As you can see: no more black box, no more cable salad. The OEM Vacuum Switch (V.O.E.S.) is not needed for this system.
FIELD-PROGRAMMABLE ADVANCE CURVE
This is incredible. The high resolution advance curve of the AMM - IMMOGNITION can be reprogrammed anywhere and anytime within a fraction of a second simply by "touching" the nose cone cover with a "curve-key". No computer required. This unique feature enables you to tune in any Harley-Engine within seconds or to change "The Mood of Your Engine". In some cases a change of the advance-curve has such dramatic effects that you may think, you have bored & stroked your engine. One is sure: You never knew how great Your Harley-Engine can run.

The Sensor Plate is adjusted to the TDC of the front cylinder (in the compression stroke). The exact position of the sensor is monitored by a LED. After this initial adjustment is made, all fine-tuning is done with the curve-keys. In order to get the most out of your engine, you AMM dealer holds a complete set of AMM - CURVE-KEYs and he knows which curve suits your motorcycle and riding requirements. Some selected AMM dealers also own the AMM CURVE-KEY PROGRAMMING-KIT and can modify & design advance-curves for your very specific needs.
We have implemented the latest available technology in order to supply you with an electronic high-security immobilizer feature. The engine will get no ignition until you touch the AMM - IMMOGNITION with your activation-key. The activation code has over 281 billions of combinations. Wrong code -> no ignition -> no theft. We supply two activation-keys with every IMMMOGNITION unit. If you lose your activation-keys there is no way of operating the ignition. This system is bullet-proof. Don't worry, if you lose them both, we can send you new keys for your IMMOGNITION, but only if you register. Please send us your registration card.

A new advance curve can only be programmed, if the IMMOGNITION has been activated with the appropriate activation key. So nobody but you can modify the advance-curve of your AMM - IMMOGNITION.
The AMM - IMMOGNITION - MILLENIUM SERIES - is available since Dec. 1997 and impressively documents our addiction to quality.

The AMM - IMMOGNITION - MILLENIUM SERIES - is covered by a full 5 (FIVE) YEARS LIMITED WARRANTY and sets a new standard in the industry.

It implements many innovations that increase reliability and take engine performance to a higher level:

Formula-1 Technology

Overload-Protected High-Ruggedness High-Performance Power Transistors.

Super-Start-Enhancement-Mode (SSEM)

Improves engine starting with Kick- & Electric Starters, also on high-compression engines with weak starter / battery.

"SYNCHRO-CONTROL MODE" (SCM)

A brandnew development by AMM that makes a realtime piston-speed synchronization for the front & rear cylinder in the compression stroke. This sounds quite useless, however the effect of this innovation is that engine torque is automatically optimized over the entire rpm-band. As a side-effect, engine vibration is drastically reduced. The "SYNCHRO-CONTROL-MODE" works on stock and modified engines. It has been tested by AMM - TEST-DRIVERs in Touring, Autobahn and Drag-Race applications with the same result: "Unbelievable".
Probably you will buy the AMM - IMMOGNITION just because of the integrated immobilizer. If so, you are ready for a surprise. Nothing runs better than the AMM - IMMOGNITION. If you are a serious racer, you can deactivate the immobilizer function for use on the race track with the AMM - IMMOLATOR-KEY.

If you have any questions or need more information about our products don't hesitate to contact the next AMM - POINT or call/fax us at +49 - 2129 - 54 260.