---
AMM - IMMOGNITION-PROGRAMMING-KIT
PC-BASED PROGRAMMING-SOFTWARE & HARDWARE FOR AMM - IMMOGNITION I&II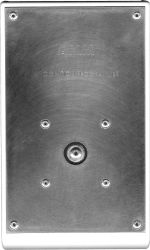 50% of orig. size
high definition curve-fields can be developed and programmed into a curve-key by "touch"
rugged programming hardware for workshop-use (stainless-steel top-cover)
programming software supports MAC-OS & MS-DOS
graphical user-interface
virtually zero-learning-time
programs rev. limit
programmable curve-keys can be reprogrammed as often, as desired
5 custom-curve-keys in the package
many curve-examples on the disk
programming guide included
The AMM - IMMOGNITION-PROGRAMMING-KIT enables the user to develop high-definition curve-fields for his own specific application, and program these into an immognition-curve-key.

A ready-programmed curve-key can be used to load down its internal curve-field into an AMM - IMMOGNITION I or II anywhere and anytime without the need of technical equipment, simply by "touching" (refer to the AMM - IMMOGNITION data sheets).

The user may develop 2 or 3 versions of a basic curve, program the curve-keys and take his bike for a test-ride. He may start up with the first version, and can change the actual curve of the AMM - IMMOGNITION on the road, simply by touching.

An IMMOGNITION high-definition curve-field consists of 30 time slots, that are distributed throughout the rpm-range. Every time-slot directs to an advance angle.

The curve-keys, supplied with the AMM - IMMOGNITION-PROGRAMMING-KIT, can be reprogrammed as often, as desired.

This kit contains the curve-data of the AMM - CURVE-KEY PRO-KIT on disk.
ADVANCER SOFTWARE (Screenshot Mac):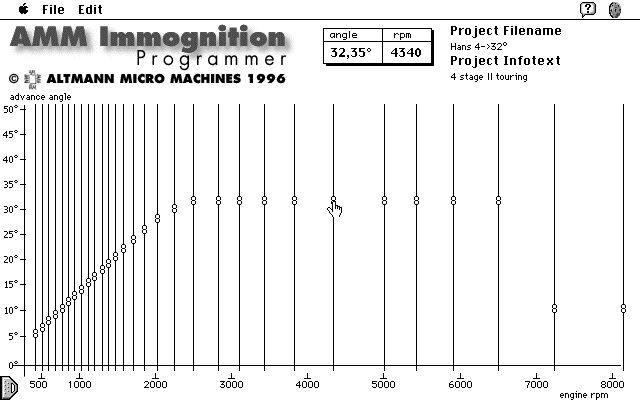 ADVANCER SOFTWARE FREE DOWNLOAD (MAC & DOS versions)
Load down the Macintosh Software

Load down the Dos Software
AMM - IMMOGNITION I&II
AMM - CURVE-KEY PRO-KIT
AMM - IMMOLATOR-KEY
AMM - DETONATOR-SERIES IGNITION-COILS