---
ACTIVATION/DEACTIVATION-KEY FOR THE INTEGRATED IMMOBILIZER-FUNCTION OF THE AMM - IMMOGNITION I&II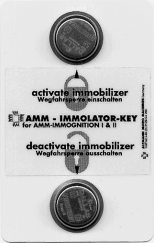 original size
programs the integrated immobilizer of AMM - IMMOGNITION I&II
double-chip-card
immobilizer can be enabled or disabled by "touch"
the AMM - IMMOGNITION stores the immobilizer- setting until it is reprogrammed
programming and reprogramming is only possible with the appropriate activation-key (user-protection)
curve-field programming remains possible and is independent of the immobilizer settings
AMM user-interface ensures 100% error-free programming
a must for professional race-applications
The AMM - IMMOLATOR-KEY is used to enable or disable the immobilizer-function which is integrated into AMM - IMMOGNITION ignition-products.

The AMM - IMMOGNITION I&II are shipped with the immobilizer activated. If the customer wants to disable the immobilizer-function (f.e. in race-applications), this can be done with the AMM - IMMOLATOR-KEY.

The AMM - IMMOGNITION will permanently hold the programmed setting until it is reprogrammed. Programming of the integrated immobilizer is secure, because the appropriate activation-key is always needed for alterations of the internal settings.

Curve-field programming with AMM - CURVE-KEYs remains possible and is also 100% securve, because the activation-key must be used.

The customer can also reactivate (enable) the immobilizer-function from the disabled state. In this case, the ignition function of the AMM - IMMOGNITION reamains disabled, until he uses his activation key.

We advise all our customers to leave the immobilizer-function enabled (for theft protection), if the bike is not used in professional race-applications.
AMM - CURVE-KEY PRO-KIT
AMM - PROGRAMMING-KIT (DOS & MAC)
AMM - IMMOLATOR-KEY
AMM - DETONATOR-SERIES IGNITION-COILS