AMM - P3

HIGH-PERFORMANCE TRUE-SINGLE-FIRE ELECTRONIC IGNITION-SYSTEM

FOR ALL HARLEY-DAVIDSON® TWINCAM® ENGINES

FEATURES:

• 5 ( F I V E ) Y E A R S L I M I T E D W A R R A N T Y

• INDEPENDENTLY ADJUSTABLE ADVANCE, RISE AND REV-LIMIT

• SUPPORTS ALL ENGINE TUNING LEVELS (Big-Bore, Stroker, Turbo ...)

• USES COMPLETELY BALANCED ADVANCE-CURVES

• PERFECT ENGINE IDLE

• ONLY 6 WIRES TO CONNECT -> NO CABLE SALAD

• INDEPENDENT OF OEM WIRING HARNESS

• NEEDS NO CAM SENSOR AND NO MAP SENSOR

• SCREW-CONNECTORS -> NO SPECIAL TOOLS REQUIRED

• HD-SCANALIZER® NOT REQUIRED

• NO ENGINE TDC ADJUSTMENT REQUIRED

• NO COMPUTER REQUIRED

• SYNCHRO-CONTROLLED ULTRA SMOOTH ENGINE PERFORMANCE

• OVERVOLTAGE AND REVERSE CURRENT PROTECTION

• VERY HIGH SPARK ENERGY WITH STOCK COIL

• MADE IN GERMANY

DESCRIPTION:

The AMM - P3 is a professional electronic ignition-system especially developed for Harley-Davidson® TwinCam® motorcycles. It is designed using the latest available technology, and implements a new approach of calculating the spark-timing, resulting in an unrivalled resolution and accuracy.

The AMM - P3 features the Synchro-Control-Mode, a proprietary development by AMM, capable of automatically optimizing engine torque through the entire rpm range. This is done in real-time by large-scale calculations in the 16MHz ignition computer.

This way, the AMM - P3 is able to reveal the full potential of the TwinCam® Porsche-type engines.

The AMM - P3 ignition is integrated into a steel-aluminium-housing and mounts directly below the stock ignition coil. This way, the only wires that run through the bike are the wire from the crank-sensor and the plus and minus supply wires. This is especially useful for custom bikes, since there will be no cable salad and the OEM wiring harness will not be necessary.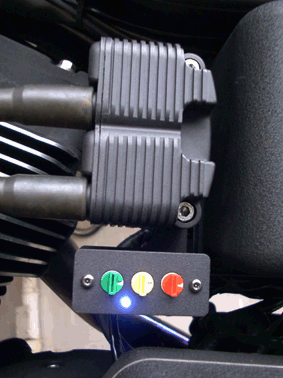 On stock motorcycles, the OEM electronic module need not to be removed. This way, the AMM - P3 ignition also works perfectly in combination with the stock immobilizer module.
On EFI equipped motorcycles the injection body is upgraded by a HQ-carburetor that is able to improve power, torque, engine response, smoothness, flexibility, operating security and gas consumption.
The AMM - P3 ignition features a unique user interface that gives unrivalled versatility while it is very easy to operate, since every aspect of the advance curve can be addressed individually and independently.
There are 3 colored rotary switches that let you adjust the maximum advance angle (green switch), the rise of the advance curve (yellow switch) and the rev-limit (red switch) of the curve individually and independently.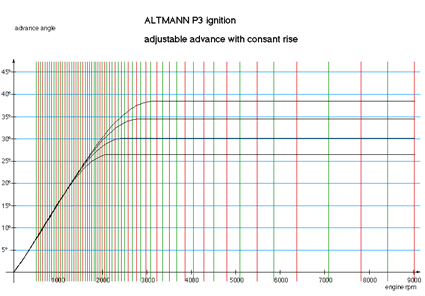 Green switch (advance) example: change maximum advance but keep the rise of the curve constant!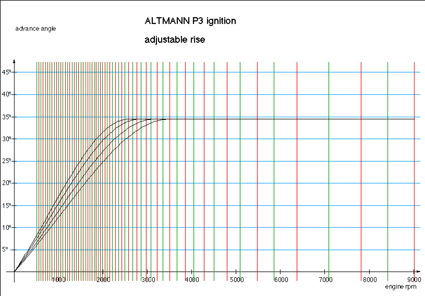 Yellow switch (rise) example: keep the max. advance and only change the rise of the curve, in order to optimise torque!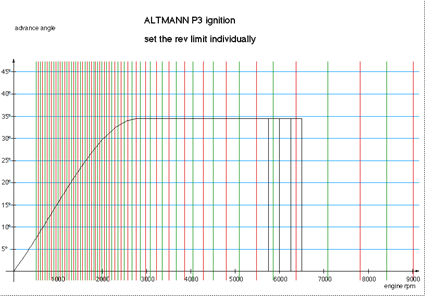 Red switch (rev) example: adjust the rev-limit of your specified advance curve.
This way, you have complete control over maximum power, low-end-torque and rpm-limit.
Every single advance curve is a high-precision design, that will give completely balanced performance from idle to top speed
The AMM - P3 ignition supports any idle speed you desire: It is able to make your engine "galop" at 350 rpm, like in the good old days, or let it smoothly "hum" around 1000 rpm.
A blue lamp communicates sensor- and power-status.
The control knobs can be removed after adjustment, in order to prevent unwanted modification.
The cam-, map- and bank-angle-sensors are not required for operation: You can make a custom bike with a clean look and spare the expense of a complex wiring harness.
Therefore, installation of the AMM - P3 is done within minutes. No special tools or knowledge are required for installation.
The AMM - P3 ignition is permanently protected against overvoltage and reverse voltage conditions.
The AMM - P3 is manufactured in Germany, and comes with a 5 years limited guarantee.